최종 수정일: 2022년 9월 22일
Hello, Anglers!
We hope you all enjoying our latest released DLC and Game event. We try our best to make the most of pleasure while you are playing RVRF. And to improve those pleasures, we are going to add new features and these updated systems to the game. It took a lot of quality time to make sure things were implemented correctly and tested thoroughly.
Although, we want to make sure we address some long-standing community concerns and include features players have been looking forward to. Here are some of the features expected to be released with the following patch.
3rd Anniversary Event
September 12th was the 1st day the Real VR Fishing was released. It has been 3 years been supported and loved by our fans and here are some of the appreciations we would like to give to your fans. Thank you for your continued, never-ending support for this game.
UI Overhaul
We have collected the voice of our users who wanted to utilize the menu more efficiently. We are focused to improve the UI improvement/renewal for better and improved gameplay.
Data Protection
We shared this announcement the previous time as well however, we would like to inform you once again. Previously, we only stored players' data in one local storage. However, that caused trouble whenever the server was unstable. We wanted to give the best and most accurate data to all RVRF players. Therefore, please allow the permission and check if you are online whenever you want to save your data. Save your Data, Save your Fish!
Patch Note
Update
- Added the notification feature by selected language
- Added the Chinese language setting(Simplified / Traditional)
Close the summer fishing event
- The epic capture possible level restore to its original setting (Level 20)
- The entrance level of each map restore to its original setting
Bug Fixed
- Fixed the issue where the hand texture is shown abnormally
- Work In Progress -
We will continue to work on several features that the community has been asking about, and we want to keep you in the loop on our progress. This work takes time, but we want to make sure you know where we are at with it.
Avatar progress
We are continuing to improve the Avatar. To provide better gameplay and more intellectual social gatherings, we are in a phase of research and developing our avatar changes. Below is our research progress on the avatars. We will continue to improve the design and functionality of these new avatars. We want to ensure this is done correctly and fully functions well with the equipment and the movement design for the game. Each day, we get our models a bit closer to moving in a more natural way. Of course, this is not the final product yet! Although the process might be taking longer than expected, we truly want to put out the best avatars possible that our players can fully enjoy.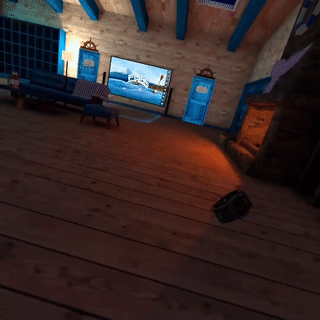 Progress of National Park DLC
Recently we announced a community event collaborated with theDots. do not forget that theDots were preparing the new project to deliver for our fans.
Here is some of our progress regarding the new project.
Japan DLC part 2
We know you have enjoyed our latest DLC. Here are a few of the contents that are in progress.
We hope you are excited about our next DLC!
We hope everyone will enjoy all the features that the new patch has to offer, and we continue to look forward to the updates that come in the future.
Happy Fishing!